5 Oversized Denim Jacket Outfits That Are Easy To Sport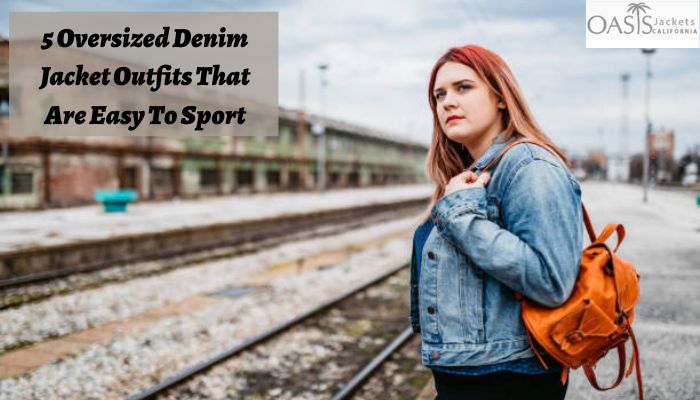 A simple rule: when you do not know how to make your outfits appear more stylish, then just add a cool oversized denim jacket to it, though you need to have a good fashion sense for this as well. If you think you are confident enough to do it yourself then go ahead and show the world how to own each look, but if you are feeling doubtful and keep on searching the net for oversized denim jacket outfit ideas lately, then these 5 looks discussed below will definitely help to inspire you!
Cool denim jacket outfits can certainly elevate your look. Want to know how? Read the blog now!
Dare With Denim On Denim
The wholesale denim jackets offered by famed jacket manufacturers these days include oversized ones as well and in different types like cropped and distressed, as these are highly popular among people of different age groups. One of the best ways to style them is by going with the denim-on-denim look which can look both effortless and cool when done right. Remember, whether you go for contrasting denim or similar shades, partner it with chunky sandals and a simple top for a classic look that has never failed on anyone yet.
Going Both Ways Right
You can achieve this particular look both as a highlighted matching set for the trendiest brunch outfit and as a casual and cool workout set. Does not matter what the event is, going with matching pants and a crop top set along with an oversized jacket will attract all the attention towards you and for good reasons.
Styled With Statement Jewelry And A Button-Down Cardigan
Do you know what the ideal fall attire combination is? It is an oversized denim jacket and button-down cardigan. When you find the temperature is all chilled in the morning, and a bit warm in the afternoon, you can make use of the extra layer and show what the meaning of fashionably functional is.
Pairing With Wide-Legged Trousers And Button Down
Need the ultimate cool, comfortable, and tomboyish look? Throw on wide-legged trousers, a white button-down, and an oversized denim jacket! It looks great as an office uniform and when you pair it with a statement shoulder bag and gold jewelry, you are all set for a night out with your friends.
Combined With A White-Fitted Top And Midi-Skirt
There is nothing like teaming a curated, perfectly dainty midi skirt, sleeveless top, and blocked heels with a casual oversized denim jacket. No matter the country or people, it is a much-loved look. Embracing this appearance can make you look like a showstopper wherever you go, whether at a museum or an outing, or simply the local cafe.
Retailers and business owners eager to revamp your store with supreme and ultra-stylish wholesale hoodies, hurry and immediately contact a famous hoodie supplier today! Do not forget to view the expansive catalog before placing your bulk order!