How To Style Voguish Denim Jackets? : 5 Fresh Fashion Tips For Women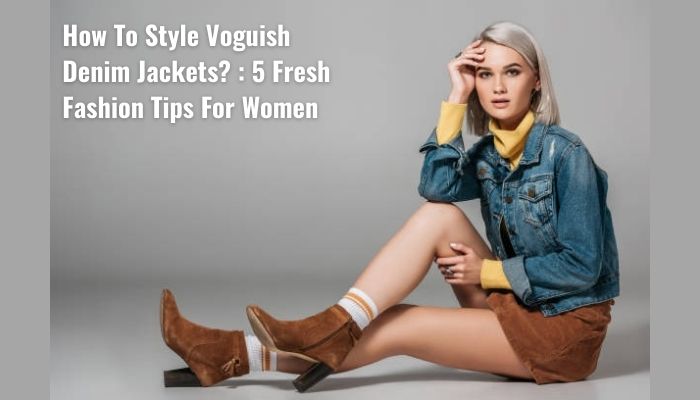 Full Audio Version: How To Style Voguish Denim Jackets? : 5 Fresh Fashion Tips For Women
Love the trendy look of denim jackets? Well, so do we as these versatile jackets are every modern womens best friend. Here are some sensational outfit ideas to achieve a fashionable look wearing your cozy denim jackets. As a business owner with an appreciation for denim jackets, you must connect with one of the top-notch denim jacket manufacturers. This will help you access stylish denim jackets for women at budget-friendly prices.
Check out these exciting styling tips to nail an attractive denim jacket outfit the stunning way!
With dress
You can wear a vintage-inspired blue denim jacket with a cute floral dress to achieve a stylish and relaxed look. Also, you can try out a red dress with a blue denim jacket and black boots to look sizzling on a date night!
With black jeans
You can create a chic look by pairing your denim jacket with a black ripped jeans or neat jeans and add black stilettos to elevate the fashion vibes. For a dressier look, you can team the jacket and black jeans with nude pumps while sneakers are a good choice for any casual outing.
With black top and blue jeans
The denim-on-denim look is exceptionally popular among fashionistas. You can choose a ripped denim jacket with a black top and blue jeans outfit to look edgy-cool!
With white top and black short skirt
A short or long denim jacket looks fabulous with short skirts. Wear your favorite denim jacket with a sexy black mini skirt and white blouse for an ultra-trendy look. Pair with black boots to finish this bold and stylish outfit.
With white flared skirt
Opt for a cute denim jacket with a white flared skirt and block red blouse to look elegant and sassy. You can team this outfit with white flats or ballerinas for a lovely finish.
Being in the shoes of a retailer, you must acquaint with one of the reputable jacket manufacturers USA, famous for providing denim jackets along with other voguish jackets. Such a reliable private label jacket manufacturer will offer you womens modish denim jackets of excellent quality to spice up your jacket collection.