3 Types of Motifs You Can Use When Customizing a Jacket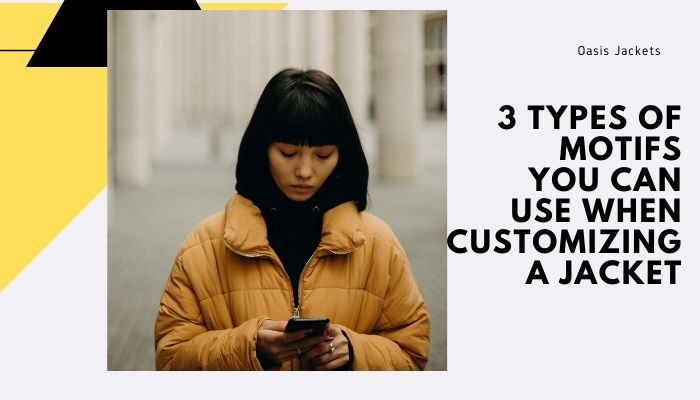 When we talk about jackets, a lot of flashes come to our mind. But today, let us focus on leather jackets. Leather jackets have for years been a staple in a man's wardrobe, however, over the last few seasons, the trend has grown significantly. And with every emerging trend, comes more trends. One such is the customization of leather jacket trend! It sounds appealing, but when people are allowed to explore their designs on canvas, well, the results can go haywire. If you are looking for inspiration to customize your jacket, then here are three on-going trends you can look up to.
Embellished prints
Sassiest of all, an embellished leather jacket usually consists of extravagant themes that are stitched on the jackets. For some this might be a little bit too much to carry, some love the idea of experimenting. Embellished prints can be anything and everything, and follows no restrictions whatsoever. From an eagle to jean patches, the style quotient on this one is pretty much open to interpretation. To completely take control of an embellished custom jacket, keep the rest of your appearance simple. A white t-shirt and pair of jeans (in black) and the jacket, along with white plimsolls will give the attire a sexy finish. Refrain from using any other patterns and let the custom embellishments be the hero of your look.
Excess stripes
Stripes are versatile! They blend well almost all types of clothes, be it a t-shirt or a leather jacket. Now the combination with the leather jacket has to be less ambiguous. You have to be careful about the background on which the stripes are to be used. Black and white always look nifty as compared to the colorful ones. Again the dimension of the stripes plays an important as well. Vertical stripes work well as compared to horizontal ones. Thin ones look smarter as against the thick ones. So when using stripes to customize the leather jacket, ensure that the one you pick complements the jacket and you. For this look also, keep the rest of the ensemble easy and simple. The t-shirt combination in monochrome can add much to the final results. Hence, stripes are versatile!
The black original stand out
From Ryan Gosling to James Dean, George Clooney to Tom Cruise, the hunks of Hollywood love leather jackets. There is something enchanting about a simple and plain leather jacket which most of us can't wrap our heads around. We all are aware of the fact that leather jackets had their inception in the military backgrounds which gave them the tough appeal. When over the years it seemed like they have lost their original charm, enthusiasts incorporated their old design. A black leather jacket is stunning with its texture and adds volume to the sex appeal of the person wearing it. The flamboyant nature of a leather jacket allows itself to blend well with other outfits, any outfits. Be it casual or formal, sporty or just for daily use, leather jackets can be the ideal pick for all.
Hence, go for the original glory or for the embellished extravagance, pick the right customization design for your leather jacket so as to make jaw-dropping appearances every time. Be a man who gets appreciated for his unparalleled style and gets a good few gazes from the ladies around. Leather padding jackets are available with the top manufacturers of jackets that can be bulk purchased by the retailers.