One Varsity Jacket And Three Stylish Ways To Wear It!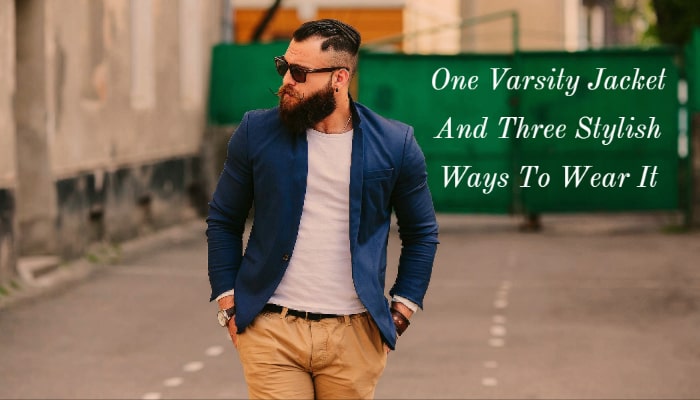 Last year, we saw the return of some classic fashion pieces. From the good old leather jackets to the omnipresent trench coats, varsity jackets too found a way back to the wardrobe, only to become staples. Again! Other than the fact that they are ubiquitous and cool, it is actually their versatility which makes them so loved, so sought after. So, if you are planning to incorporate a varsity jacket in your daily clothing routine, then read on. Below mentioned is a list that highlights on three ways in which you can rock a letterman jacket without looking messy. So live the old days and make distinct fashion statements.
Keeping it chic and elegant
One of the qualities of varsity jackets is that they are laid-back by default. Blame their principal design or how they have been interpreted over the years, these jackets have become a perfect representative of casual attire.Thus, it wouldnt be really difficult to pull off a cool status quo in it. But to avoid looking sloppy, make sure you have the correct clothing pieces. A simple t-shirt teamed with a leather skirt is a great way to go for it. You can further use a pair of ankle length boots to keep the look natural and breezy. Keep it effortless by skipping on accessories.
Dressing it up
Varsity jacket wholesale manufacturers have a variety of them constructed which are perfect picks when you are planning to dress up. So if you are planning to dress up without wanting to look flashy, then throw over one of these on a little black dress. Yes, you are ready to hit the dance floors and win hearts (and definitely some glares). Complete the approach with a pair of ankle length boots for that will give you an edgy finish. a chunky neckpiece can be added to the ensemble to make it a wee bit more feminine.
The sporty nostalgia
Varsity jackets have always a bit of nostalgia related to them. They remind us of the good old high school/college days. And if you were anyhow related to the sports and were a part of any team, then the jacket is of pretty significance to you. Thus, relive those days by wearing a pair of straight leg trousers and shirt, with the jacket thrown over casually. A pair of sneakers will complete the look. Simple yet effective are the right way to go about this approach. The tom-boyish appearance is elegant and will surely help you be a stand out in the crowd.
In conclusion, it can be said that use the varsity jacket wisely to create appearances that are praise worthy. With a number of prominent manufacturers having produced varsity jackets in massive numbers, retailers can register and take a look at the vast catalogue as offered which includes wholesale tracksuits and jackets among many others.