5 Celebs Inspiring Us To Wear The Letterman Jackets In 5 Different Ways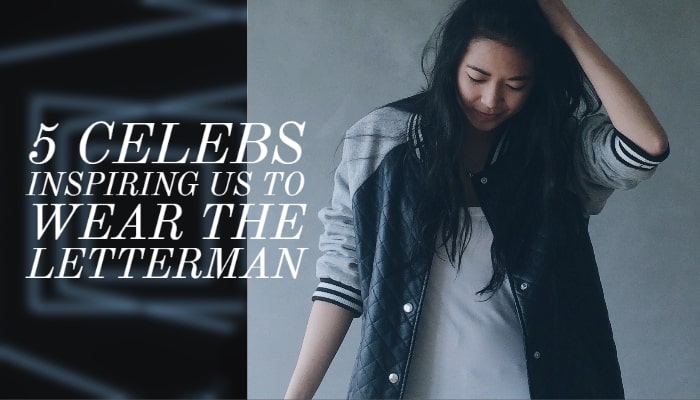 We all must think twice before throwing the old items from our closets, and replacing them with new ones. If you are the real fashion aficionado, you must be aware of the fact that the fashion scene is revolving, and that definitely doesn't mean that the old style quotients are taking a complete backseat. The world of fashion is ever changing, and it is a new trend which is welcoming the classic items one by one, to carry on some of the vintage style forever. Today, everything goes around90's trends and the past style essences are reinvented and brought back to the present times. Such is the matter with the varsity or the wholesale letterman jackets.
A traditional garment which was once used by the schools and colleges, has now entered the mainstream fashion world. Once rocked by singer Michael Jackson, this sporty, chic and urban outfit is now worn by everyone from the fashion forward women to Taylor Swift, the Kardashian sisters, Rihanna and many more They are now being sported in sporty stances, glamorous silhouettes, or casual gym looks.
Here are 5 celebs who have done the varsity jackets in different ways, and one can definitely get cues from them.
Hailey Baldwin's weekend wear
Being one of the hottest girls of the celluloid, she never fears to take risks. She was seen wearing a bottle-green and white combined varsity letterman jacket with white crew neck tee, tucked into the blue denim cutoff. Her cross body beige bag with brown velvety bootie completed the total attire with a finishing edge, and proved to be one of the best casual looks which one can sport easily. Girls who love to be bright and colorful can go for the printed shorts, or add pop of colors through vibrant shoes or bags.
Hilary Duff's brunch scenes
Her practically comfortable and simple looking black form fitted legging in black was teamed with a blue classic denim chambray shirt, and instead of wearing the black and white varsity jacket, she chose to just throw it casually on her shoulders. Extremely modish, and smart outfit option, this can be anyone's brunch outing look, especially when you are in no mood to dress up too much.
Gym attire by Gigi Hadid
Her athleisure look was killer enough to inspired the fashionable women across the globe. Instead of experimenting, she chose to keep things simple with the black and white varsity letterman jacket teamed with black and white printed tee and a black jogger pant. This off-duty comfy and stylish look can be your ultimate motivation to go athlesure in gym attire for any casual outing or party night.
Cara Delevingne's sweat style
Have you ever though of going somewhere in your sweat pants? Yes, now you can as the celebs will help you to rock them with perfection. Cara's laid back wardrobe solution reflects a style qupotinet which is completely different. She sported her blue sweat pants with blue tee, and black and white varsity jacket with white sneakers for the most simple yet chic silhouette.
Night around the town with Ellen DeGeneres
Her distorted tattered denim wad given the ultimate edge with the black and white timeless varsity jacket and the twist was added by a printed silk scarf.Neither too feminine nor extremely tomboyish, this can be your party wear for the next weekend.
Thus make sure to get hold of the letterman customized jackets from the retail stores next time.